YOU ARE BEAUTIFUL!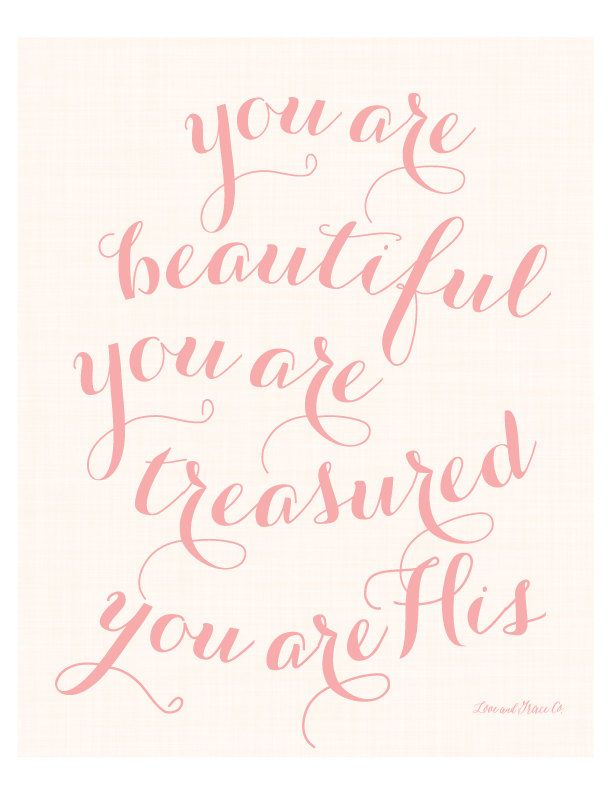 When a husband has been involved in pornography, his wife will often compare herself to those other women who seem to have caught his attention more than she has. I've found that many women admit they don't feel pretty enough, appealing enough, nor slim enough, they begin to feel ugly, unattractive and lack self-worth. They sometimes even begin blame themselves for their husbands' sexual impurities.
However, digitally enhanced images, media and especially porn sites are definitely not good places to find examples and representations of true beauty.
God is the artist who created us. In the Bible, He reminds us exactly who we were made to be. If you or someone you know is struggling with self-image, share some of these verses as a reminder of how beautiful they are.
For you formed my inward parts; you knitted me together in my mother's womb. I praise you, for I am fearfully and wonderfully made.Psalm 139:14
The word "fearfully" in this verse is actually translated from the Hebrew "to inspire awe".  God created you to inspire awe. God started putting you together stitch by stitch when you were still in your mother's stomach. He gave you your nose, your laugh, your body type, your quirks and your sparkling eyes. God didn't just make you – He made you wonderfully.
God created human beings. He created them godlike, reflecting God's nature.Genesis 1:27
Okay, that is mind-boggling. When we look in the mirror and don't like who we see, we're not looking hard enough. Because God says from way back in the Garden of Eden, He made us to reflect His image. Somewhere in our reflections are pieces of God. We need to seek those aspects of ourselves, not dwell on anything we feel is unworthy.
God not only loves you very much but also has put His hand on you for something special.1 Thessalonians 1:4
When the world comes crashing in, telling us time and time again, we're not strong enough, tall enough, thin enough, pretty enough, funny enough or smart enough, this is when we need to remind ourselves that God loves us exactly how we are. He doesn't just love us, He loves us very much!  In fact, He has his hand on us for something special.
So since we find ourselves fashioned into all these excellently formed and marvelously functioning parts in Christ's body, let's just go ahead and be what we were made to be, without enviously or pridefully comparing ourselves with each other, or trying to be something we aren't. Romans 12:6
We don't need to look like anyone else, or fit into the patterns of the world. We aren't supposed to be like plasticine cut images of one another. How boring would that be? We are excellently formed and marvelously functioning, exactly how we are. We need to really take that in, embrace and own it, without ever worrying about how we measure up or compare to someone else.
For we are God's masterpiece. He has created us anew in Christ Jesus, so we can do the good things he planned for us long ago.Ephesians 2:10
We are God's masterpieces, not His sketches, not His doodles, not His rough drafts. We are God's very best work comparable to masterpieces and breathtakingly beautiful!  If God sees us as His priceless creations, His works of art He has toiled over creating until we are exactly how He wants us to look, why would we want to change our appearances? Why would we want to be any different than we are?
You are a masterpiece. You are beautiful. God loves you. You aren't supposed to be like anyone else.  Always remember that!