Here is Andrew's latest blog…
What did Jesus say about temptation?
Who is more important in the bible and Christianity than Jesus, the sinless Lord of Lords and King of Kings? Who better to help us conquer the temptation of sexual sin?
Matthew 4:s 1-11 says:
Then Jesus was led up by the Spirit into the wilderness to be tempted by the devil. And after fasting forty days and forty nights, he was hungry. And the tempter came and said to him, "If you are the Son of God, command these stones to become loaves of bread." But he answered, "It is written,  "'Man shall not live by bread alone, but by every word that comes from the mouth of God.'" Then the devil took him to the holy city and set him on the pinnacle of the temple and said to him, "If you are the Son of God, throw yourself down, for it is written, "'He will command his angels concerning you,' and "'On their hands they will bear you up, lest you strike your foot against a stone.'" Jesus said to him, "Again it is written, 'You shall not put the Lord your God to the test.'"  Again, the devil took him to a very high mountain and showed him all the kingdoms of the world and their glory. And he said to him, "All these I will give you, if you will fall down and worship me." Then Jesus said to him, "Be gone, Satan! For it is written,  "'You shall worship the Lord your God and him only shall you serve.'" Then the devil left him, and behold, angels came and were ministering to him.
and also:
For we do not have a high priest who is unable to sympathize with our weaknesses, but one who in every respect has been tempted as we are, yet without sin. Let us then with confidence draw near to the throne of grace, that we may receive mercy and find grace to help in time of need.
Hebrews 4:15-‬16 ESV
Jesus is the perfect person to understand our failings. The Lord was tempted in every way and so He will not mock you, look down on you, or punish you when you come to Him with an honest and repentant heart seeking forgiveness. If you are struggling with temptation He will help you.
His word will empower you in this battle and the above verses teach us many things about temptation. Firstly, we can see that Satan is not foolish, and chooses to attack when you are at your weakest and not when you have the strength and awareness to flee, but rather when you are tired, weak, down or depressed, hungry (either spiritually or physically) or lonely.
Be sober-minded; be watchful. Your adversary the devil prowls around like a roaring lion, seeking someone to devour. 1 Peter 5:8 ESV
We always need to be aware and never give in to prideful ideas like 'I am too strong' or 'that has never happened and will never happen me'. You are not a spiritual titan on your own strength. Even angels have fallen under the lies of Satan to join his army.
So if staying up alone at night leads to watching porn then don't do it because you won't always have the willpower to defeat it.  If you are hurting, instead of falling into porn as a crutch, get accountable with some godly friends, church members or your spouse.
I speak from experience on all these things, so don't think you are alone, no matter what your particular temptations are. All sin is the same before God even if we as people like to categorise it and try and make our particular sin seem less sinful than others.
So how do these verses explain Jesus' response to temptation?
"'Man shall not live by bread alone, but by every word that comes from the mouth of God.'"
This one is easy to expound. Reading God's word will convict any true Christian into action! Satan will use anything to separate you from God's word. Thought precedes action and if your thought-life is godly then your chances of falling into temptation will be reduced greatly. So get into the word of God and have it engrafted into your heart so you will be ready to stand against the temptations of the devil.
'You shall not put the Lord your God to the test."
Don't test God and don't expect Him to do all the leg work. You are his servant, He isn't yours. You have your part to play. He has provided all the power you need in him. Build up your mental strength in Jesus, meditate on God's word, don't forget the damage and pain sexual sin causes you and others.  You are more than a conqueror with God's power and can do all things through Christ who strengthens you.
No, in all these things we are more than conquerors through him who loved us. For I am sure that neither death nor life, nor angels nor rulers, nor things present nor things to come, nor powers, nor height nor depth, nor anything else in all creation, will be able to separate us from the love of God in Christ Jesus our Lord. Romans 8:37-‬39 ESV
"Be gone, Satan! For it is written,  "'You shall worship the Lord your God and him only shall you serve.'"
You also have the power to say "BE GONE SATAN!" Don't worship satan or any of the false gods he goes by! He is nothing compared to the power that lives in you! You have to make a decision each time you are tempted commit sexual sin. Are you going to worship Satan, yourself or whatever else or are you going to worship God and serve Him only.
May God strengthen you in your battle brother or sister in Christ and I pray you will resist temptation as you worship and serve the Lord your God.
Gen 3x
YOU ARE BEAUTIFUL!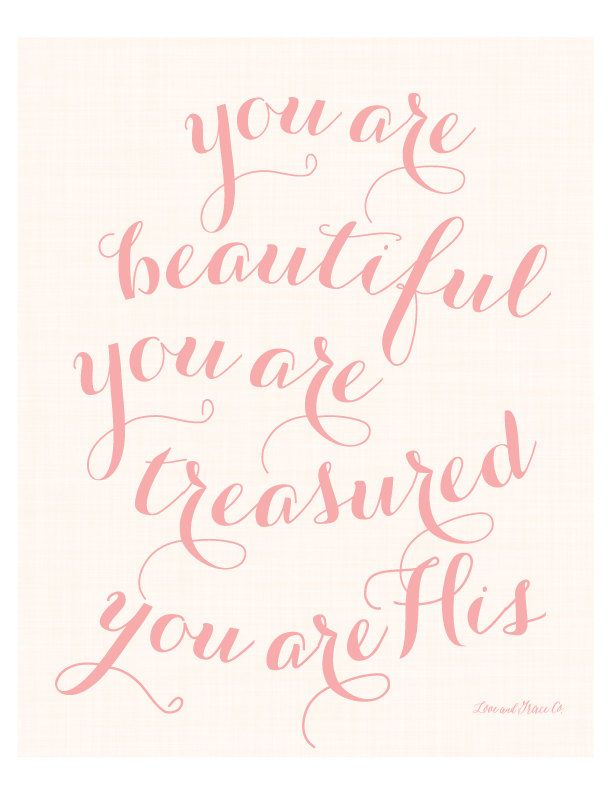 When a husband has been involved in pornography, his wife will often compare herself to those other women who seem to have caught his attention more than she has. I've found that many women admit they don't feel pretty enough, appealing enough, nor slim enough, they begin to feel ugly, unattractive and lack self-worth. They sometimes even begin blame themselves for their husbands' sexual impurities.
However, digitally enhanced images, media and especially porn sites are definitely not good places to find examples and representations of true beauty.
God is the artist who created us. In the Bible, He reminds us exactly who we were made to be. If you or someone you know is struggling with self-image, share some of these verses as a reminder of how beautiful they are.
For you formed my inward parts; you knitted me together in my mother's womb. I praise you, for I am fearfully and wonderfully made.Psalm 139:14
The word "fearfully" in this verse is actually translated from the Hebrew "to inspire awe".  God created you to inspire awe. God started putting you together stitch by stitch when you were still in your mother's stomach. He gave you your nose, your laugh, your body type, your quirks and your sparkling eyes. God didn't just make you – He made you wonderfully.
God created human beings. He created them godlike, reflecting God's nature.Genesis 1:27
Okay, that is mind-boggling. When we look in the mirror and don't like who we see, we're not looking hard enough. Because God says from way back in the Garden of Eden, He made us to reflect His image. Somewhere in our reflections are pieces of God. We need to seek those aspects of ourselves, not dwell on anything we feel is unworthy.
God not only loves you very much but also has put His hand on you for something special.1 Thessalonians 1:4
When the world comes crashing in, telling us time and time again, we're not strong enough, tall enough, thin enough, pretty enough, funny enough or smart enough, this is when we need to remind ourselves that God loves us exactly how we are. He doesn't just love us, He loves us very much!  In fact, He has his hand on us for something special.
So since we find ourselves fashioned into all these excellently formed and marvelously functioning parts in Christ's body, let's just go ahead and be what we were made to be, without enviously or pridefully comparing ourselves with each other, or trying to be something we aren't. Romans 12:6
We don't need to look like anyone else, or fit into the patterns of the world. We aren't supposed to be like plasticine cut images of one another. How boring would that be? We are excellently formed and marvelously functioning, exactly how we are. We need to really take that in, embrace and own it, without ever worrying about how we measure up or compare to someone else.
For we are God's masterpiece. He has created us anew in Christ Jesus, so we can do the good things he planned for us long ago.Ephesians 2:10
We are God's masterpieces, not His sketches, not His doodles, not His rough drafts. We are God's very best work comparable to masterpieces and breathtakingly beautiful!  If God sees us as His priceless creations, His works of art He has toiled over creating until we are exactly how He wants us to look, why would we want to change our appearances? Why would we want to be any different than we are?
You are a masterpiece. You are beautiful. God loves you. You aren't supposed to be like anyone else.  Always remember that!
Please read this beautiful God-breathed poem bearing testimony of a precious friend – a mighty woman of God who has been transformed and set free through the love and the precious blood of Jesus. God is good!:
She watches from a distance and wonders what they'd say,
If she walked right in and took a seat, would they quickly draw away?
And if she hung around a while just so that she might hear.
About this man named Jesus, would they even let her near,
Just close enough to touch Him and maybe see His face.
She's sure no one could love her, but she's heard about His grace.
They say He's a friend of sinners and she knew she'd played that game.
And deep inside she feels too bad to even speak His name.
But maybe if His people could see behind her mask,
She'd tell them of her brokenness and the secrets of her past.
But afraid they may reject her like all the times before.
She watches from a distance but stays outside the door.
She knows that she's a sinner and somewhere deep within her heart,
She's sure those 'holy' people and herself are miles apart.
They've never been where she's been, the lowest of the low.
And if they knew her secrets they just wouldn't want to know.
But maybe if she found Him, He'd see the tears she's cried.
And maybe He would give her all the love she's been denied
If only they would show her it's ok to come inside.
That this Jesus really loves her and she doesn't have to hide.
He'd heal her broken heart and take away her shame.
Just like He did for them when they called upon His Name.
So if you really love Him then open those doors wide.
And tell her Jesus loves her and it's ok to come inside.
And maybe when she realises how much you love her too,
She'll come and meet this Jesus who means so much to you.
He'll win her heart and heal her and take away her shame.
In turn she'll learn to love Him and call upon His Name.
And as she does He'll bring some other lost soul to her side.
And show them that it's ok to let Him come inside.
By Maureen Coleman.