In the Bible, God makes many references as to how we should be like trees, standing strong and firm, with our roots going deep, being nourished and well fed with His word.  He wants us to flourish and produce good fruit. He wants others to be able to look at us and see us stand tall through the storms of life and to be drawn to us when they see the evidence of the Spirit within us through the fruit we produce.  These qualities should be evident first and foremost in our marriages.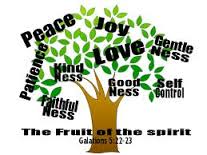 I believe every married couple needs to apply the fruits of the Spirit to their marriage. We all love to bite into a big, juicy, sweet piece of fruit!!  So, when you taste your marriage, is it sweet or bitter? I'm sure all of us want our marriages to be sweeter and God has told us in Galatians 5:22,23 all the qualities we need to do so.
But before we look at the first fruit of the Spirit, we need to unlock and open the door to these wonderful fruits and the way to do this is through repentance. Repentance means we have to do a complete turn around and go the other way.  In order to do this, you need to have a totally conquered and yielded mind. Selfish desires must go completely, because one of the biggest destroyers of happiness in a marriage is selfishness.
With the help of the Holy Spirit, you will be able to turn your marriage around from right now and make it taste sweet instead of bitter. Galatians 5 verse 16 says: "Walk in the Spirit, and you shall not fulfill the lust of the flesh".
Remember to satisfy your husband/wife with good fruit by giving instead of always taking. Sweeten your marriage with the fruits of God's Holy Spirit.
Galatians 5:22 But the fruit of the Spirit is love, joy, peace, forbearance, kindness, goodness, faithfulness, 23 gentleness and self-control. Against such things there is no law
With God's help, I aim to cover each of these lovely fruits over the next few weeks and I would be honoured if you come with me and taste what God has in store for us!