The Bible tells us that God's love is as vast as the ocean. I believe that we all need to have a revelation of this vast ocean of love which our Father has for us.  Why not ask God to show you and help you understand just how wide, how long, how high and how deep His love really is?  Then accept His love and become firmly rooted and securely grounded in it.
Jesus stood, He cried in a loud voice "If any man is thirsty, let him come to Me and drink!"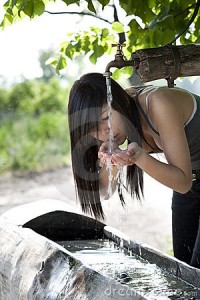 He has accomplished everything on the cross that you will ever need.  So go to Him and drink in His love, believe that it is for you. Allow Him to quench your thirst.  Receive what the Holy Spirit has for you IN FULL! Then spread that love and joy to others, including your husband! Do it in submission to the Lord.  He is your Life, your Breath, your Fortress, your Rock and He will keep you sane!  He's everything that you will ever need!
Remember, the same Spirit that raised Jesus from the dead is alive inside YOU!  He can supernaturally put life back into your dead marriage, He can transform a love which is dead and He can bring it back to life.
Be Rooted in His Love
The Creator of the universe opens His arms wide to you, His little girl, He invites you to come to Him, just as you are and He longs for you to experience His love, during your time here on earth.
So my prayer is that:
"Your roots will grow down into God's love and keep you strong".  And that "you have the power to understand, as all God's people should, how wide, how long, how high, and how deep His love is". Ephesians 3:17&18.
I pray that your Abba Father will reveal His love to you personally, today. He is waiting for you with arms wide open, run into His warm embrace.