BEAUTY FOR ASHES – HELP FOR A HURTING WIFE
Day 21 – God Will Do a New Thing
ISAIAH 43:18,19 – Forget the former things; do not dwell on the past.  See, I am doing a new thing!  Now it springs up; do you not perceive it? I am making a way in the desert and streams in the wasteland. 
Don't Dwell on Your Past
Unfortunately, not one of us can change our past, but we can do something about our future.  God tells us in this promising verse, that we must forget the former things, and we are not to dwell on our past, but to look forward in anticipation because He is doing a new thing!
We can so easily become caught up in our past, and like I said in another study, we can become like a prisoner, bound in chains of emotional bondage, making it difficult to move forward.  Jesus came to set the captive free, don't be controlled by the things which He has already defeated at Calvary.
Jesus' ways are always new and fresh, pure and perfect.  The past is over and done, it's time for you to concentrate and focus on what lies ahead.  Jesus will heal your past and all the mental, physical and spiritual damage caused by that, while you press onwards into your future in Him.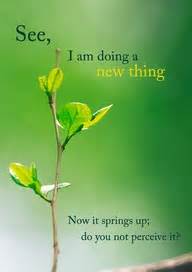 He has something new in store for you
God has fresh spring water for you to drink which will sustain you, heal you and strengthen you.  It is time (if you choose) to begin to reclaim what the enemy has stolen from you, your family and your marriage.  Please be encouraged that God has promised you will be paid back all that has been taken and even double blessings for your loss and your pain.
"Return to your fortress, O prisoners of hope, even now I announce that I will restore twice as much to you." Zechariah 9:12
"Instead of your shame you will receive a double portion, and instead of disgrace you will rejoice in your inheritance. And so you will inherit a double portion in your land, and everlasting joy will be yours." Isaiah 61:7
So change your focus
In Day 1 we learned how God will give you beauty for ashes, the oil of joy for mourning, the garment of praise for the spirit of heaviness. It's time to see transformation and new beginnings, so get ready for what He has planned for you.
You need to stop looking behind and start looking ahead.  When you continually look behind you can't see where you're going!  Have hope today that the God of the universe holds you in His hands and the enemy cannot snatch you away from them. It is only the enemy's lies that will try to convince you that you must give up, or that God does not care.
Trust in Him and allow Him to be Lord over all your life and He will not fail you.  We need to pray in agreement with our sisters around the world that many marriages will be taken back from the enemy's hands as we turn our eyes towards Jesus.
"No one can deliver out of my hand. When I act, who can reverse it?" Isaiah 43:13
God is on your side, so you don't need to be afraid.  He sees your great pain, and He knows exactly what the devil has stolen from you.  He will repay in His perfect way and His perfect timing.  He promises you this as you walk in His ways.
"Blessed are all who fear the LORD, who walk in obedience to him. You will eat the fruit of your labour; blessings and prosperity will be yours." Psalm 128:1-2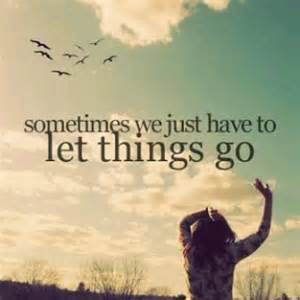 I know that change isn't always easy
Sometimes we can even become comfortable in our troubles, because it is all we have known for a long time.  You need to step out of your comfort zone with boldly confidence.  God's plans and His changes are always for your good.  He sees the bigger picture and what lies ahead for you when all you can see is darkness.
At just the right time, He will show you this new thing He has for you and He will open your eyes to the way He is making in the desert.
Remember to praise and worship your Father in all things, who is the King of Kings and the Lord of Lords, you will be able to celebrate as the manifestation of this new thing in your life will appear.
So please take that huge step of faith, trust in Him and He WILL lead you into the promised land!
Beauty for Ashes
Gen3x – Help for women whose husbands are involved in pornography