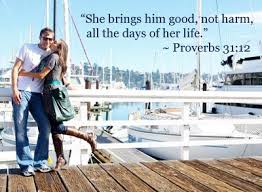 PROVERBS 31:10-31 – A wife of noble character who can find? She is worth far more than rubies…….
God wants us to catch the spirit of the Proverbs 31 woman and not her workload or even her perfectionism.  He doesn't expect any one woman to have all these qualities and He doesn't want us to feel condemnation if we don't meet up to them. God is asking us to become more like her by showing grace, love and humility.
But how do we become more like her? It is in the time you spend sitting at Jesus' feet, in fellowship with Him, that your Father can truly clothe you in strength and dignity.  The real strength of a woman does not lie in her physical actions, but her spiritual ones.
To read more click here