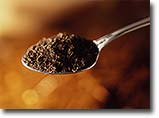 Sometimes it can look like God doesn't hear us, and that our mountain isn't moving.  I used to think He didn't hear my cries and that my mountain of marriage problems was never going to budge.  However, my mountain did begin to move, not all at once, or that I could even see, but in small pieces, sometimes as tiny as a teaspoon at a time.
MARK 11:23 – I tell you the truth, if anyone says to this mountain, 'Go, throw yourself into the sea,' and does not doubt in his heart but believes that what he says will happen, it will be done for him.
Please click here to read more.