BEAUTY FOR ASHES – HELP FOR A HURTING WIFE
DAY 7 – Are Your Hurting, Frightened and Feeling Like You're on Your Own?
JOHN 14 16 – And I will pray the Father, and He shall give you another Comforter, that He may abide with you for ever. 
The Holy Spirit is our Daily Comforter and Always Will Be!
God loves you so much, He knows all that you are facing right now and that you cannot possibly do it in your own strength.  God will never leave you without comfort, and as a Christian, the Holy Spirit is one of the most crucial and distinguishing characteristics you have been given as a wonderful gift from God.  He will never leave you! He will never let you down!  You can trust the Holy Spirit 100%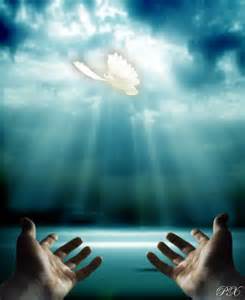 It is the Holy Spirit within us who gives us the strength to walk with God in a corrupt and dying world
When we feel we are surrounded with hatred – He loves us.
When all we can see is the negative circumstances – He encourages us.
When we are being lied to – He shows us the truth.
When there is fighting and strife in our marriage or our family – He gives us peace.
I Have Known the Holy Spirit as My Comforter
Many times in my own life, the Holy Spirit has been my Comforter. When I thought I couldn't take any more, that I was destined to live a life full of hurt, betrayal, bitterness, fear and anxiety, I cried out "God help me, I don't know what to do anymore!"  The Holy Spirit led me to a "Father Heart of God" weekend at Church. The speaker was teaching on the spoken word and invited those who had negative words spoken over them to come up to the front, which I accepted.  He walked along the line and he took both my hands in his, said nothing, just looked at me as I sobbed these huge, supernatural sobs from deep down in my spirit. I felt such a release. God's Holy Spirit comforted me as I cried, like I never had before. I felt God's presence sweep through my body, reaching down into my innermost being as he touched and bandaged all my wounded places and began to heal my wounded heart.
Hand It All Over
Yield yourself to the Holy Spirit and He will not only comfort, strengthen and restore you, but also use you as a comforter to others.  You can be the vessel that the Holy Spirit uses to comfort and strengthen a discouraged, weak, lonely, bereaved or broken sister.  You can enter into the very work of the Spirit Himself as a tool to be a comforter.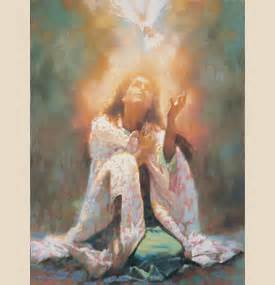 When we think of the word "comfort", we can think of a big cosy warm blanket to wrap up in on a cold winter's night in front of a lovely open fire. Or maybe we think of someone who tries to make us feel better when we go through difficult times.  The KJV describes the Holy Spirit as "another Comforter" which also means, "to come alongside with strength."  Another translation of the Bible says the Father will send "another Friend."
So why don't you allow the Holy Spirit to come alongside you and wrap His comfort around you like a big, cosy blanket of love and compassion, there is nothing on this earth that compares.
He is Your Best Friend
The comfort of the Holy Spirit is that you have a real and abiding Friend who loves you, a real Friend who will not abandon you in the midst of difficulty. He will encourage you and strengthen you right when you need it most. He is your Counsellor, like a friend who will take time to listen and hear your deepest concerns, offer you wise advice and provide help with difficult decisions. He will bring peace and comfort to you when you are sad and distressed. This is the role of the Holy Spirit in our lives.
You Need Him!
So why not ask Him right now to come alongside you, to comfort and guide you, to bring someone else into your path who will encourage you, or even someone else who needs your comfort and encouragement.
"It is not by might, nor by power but by my Spirit, says the Lord." Zechariah 4 6
 Beauty for Ashes
Gen3x – Helping wives of men who are involved in sexual sin