BEAUTY FOR ASHES – HELP FOR A HURTING WIFE
DAY 13 – What Kind of Wife Does God Want You to Be?
PROVERBS 31:10-31 – A wife of noble character who can find? She is worth far more than rubies. Her husband has full confidence in her and lacks nothing of value.  She brings him good, not harm, all the days of her life. She selects wool and flax and works with eager hands. She is like the merchant ships, bringing her food from afar.  She gets up while it is still night; she provides food for her family and portions for her female servants. She considers a field and buys it; out of her earnings she plants a vineyard. She sets about her work vigorously; her arms are strong for her tasks. She sees that her trading is profitable, and her lamp does not go out at night. In her hand she holds the distaff and grasps the spindle with her fingers. She opens her arms to the poor and extends her hands to the needy. When it snows, she has no fear for her household; for all of them are clothed in scarlet. She makes coverings for her bed; she is clothed in fine linen and purple.  Her husband is respected at the city gate, where he takes his seat among the elders of the land.  She makes linen garments and sells them, and supplies the merchants with sashes. She is clothed with strength and dignity; she can laugh at the days to come. She speaks with wisdom, and faithful instruction is on her tongue. She watches over the affairs of her household and does not eat the bread of idleness.  Her children arise and call her blessed; her husband also, and he praises her: "Many women do noble things, but you surpass them all".  Charm is deceptive, and beauty is fleeting; but a woman who fears the Lord is to be praised.  Honour her for all that her hands have done and let her works bring her praise at the city gate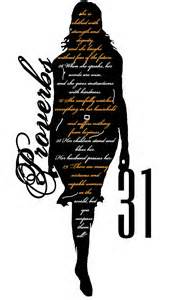 Wow!  That Proverbs 31 woman is something special, isn't she? Is it possible to be like her? Can anyone ever measure up to her?
I believe that through these verses, God wants us to catch the spirit of the Proverbs 31 woman and not her workload or even her perfectionism.  He doesn't expect any one woman to have every single one of these qualities and He doesn't want us to feel condemnation if we don't meet up to them.   Jesus is the only perfect person who ever lived.  He never sinned, there was no-one ever as perfect as Him and there never will be, but yet the Bible teaches us we are to become more like Him and to grow more into His image.
I believe this is what God is asking us to do as wives through the example of this lady – to become more like her by showing grace, love and humility.
Make God the Centre
I have learned that the key to a happy marriage is firstly making God the centre, and then the husband and wife being mutually committed to each other so as to make the marriage a success.  Unfortunately, though, many times in marriage, one person does all the work and the other sits back and selfishly takes all that's going.  A happy marriage means both spouses working as a team.
You Are Not A Doormat
Many modern women believe these verses make wives look like doormats or men's servants, or even worse.  I haven't found anywhere in the Bible saying that wives should be slaves to their husbands.  Yes, it talks about godly submission, but also that husbands should sacrifice their lives to serve their wives, just like Jesus loves His bride the Church.
Some believe that wifely submission means that a wife can make no decisions, isn't allowed a mind of her own, and has to be at the mercy of a controlling husband. This is not the case.  These verses tell us that God expects wives to be able to handle money, even to earn their own money (if desired), to be the overseers of their households, and to be able to make important decisions regarding their homes and lives.
Who is a virtuous woman?
Proverbs 31 tells us that this is the woman who puts God first.  The ideal woman of Proverbs 31 should be an encourager to others.  She should have a reverent fear of the Lord and her priorities should be determined by God's will, not hers.  She should not be a "people pleaser", but a "God pleaser".  She should know that true strength only comes from God.  Proverbs 31 says that "strength and dignity are her clothing and her position is strong and secure".
Wow!  How I would love my Father to say that about me!
Remember What Jesus Taught Martha Over Two Thousand Years Ago
Do you remember how Mary sat at the Lord's feet, listening intently to what He taught?  Martha was very busy, being distracted by the big dinner she was preparing. So she came to Jesus and said, "Lord, doesn't it seem unfair to you that my sister just sits here while I do all the work? Tell her to come and help me." But the Lord said to her, "My dear Martha, you are worried and upset over all these details! There is only one thing worth being concerned about. Mary has discovered it, and it will not be taken away from her." – Luke 10:38-42
If you want to be ready spiritually for the daily tasks God gives to you, you must spend time sitting at His feet, just like Mary did. How much time do you spend at His feet?  Sometimes we are so busy with life, and our problems, or even doing things for God, that we forget all He really wants is your heart.   Many husbands spend so much time at work trying to provide for their wives and children and they have little to no time to spend with the family.  Many of us would rather have time alone with the ones we love, than have them constantly working.  God feels the same way. He would rather have time alone with you,  the one He loves, than all of your work – even if the work you are doing is really for Him.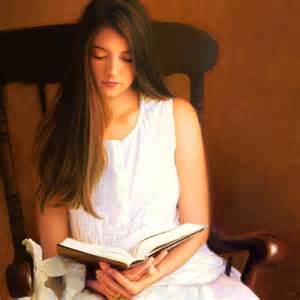 It is only in that time alone with you that He can give you the strength that you will need to be the woman He designed you to be.

It is in the time you spend sitting at His feet, in fellowship with Him, that your Father can truly clothe you in strength and dignity.  The real strength of a woman does not lie in her physical actions, but her spiritual ones.  Do everything each day as if it is to the Lord.  He will give you the strength to keep on going.
Do Not Gossip About Your Husband
If you seek to be like the Proverbs 31 woman, you should not gossip or speak negatively about your husband publicly. Pray for him always and protect his name. Learn how to control your tongue. Don't complain about him. However, if you feel the need to discuss your husband, you should do so only with a trusted Christian woman who is preferably married and make sure she will provide scripturally-based advice, will not judge, and can keep a confidence  Also, as a wife, we should never bring shame to our husband's name.
Although the Bible says that the man is the head of the home, it doesn't give him any right to be unkind or abusive towards his wife.  Sometimes "religious" men use this position to bully their wives. God also expects every husband to be like the husband in Ephesians 5:25-33. 
25 Husbands, love your wives, even as Christ also loved the church, and gave himself for it;
33 Nevertheless let every one of you in particular so love his wife even as himself; and the wife see that she reverence her husband.
Nothing Is Impossible for God
I know this may sound impossible at the moment, but God wants you to "smile at the future." (Verse 25) and remember, you can do ALL things through Christ who strengthens you.
He doesn't want you living in fear of what tomorrow may bring.  He holds your future in His loving hands.  Trust him, aim to be like this lady and see what He will do for you as you obey His word.
Beauty for Ashes
Gen3x – Helping wives of men involved in sexual impurity