BEAUTY FOR ASHES – HELP FOR A HURTING WIFE
DAY 2 – God Will Give You All the Care, Comfort and Love You Will Ever Need
PSALM 91 – Whoever dwells in the shelter of the Most High will rest in the shadow of the Almighty. I will say of the Lord, "He is my refuge and my fortress, my God, in whom I trust". Surely He will save you from the fowler's snare and from the deadly pestilence. He will cover you with His feathers, and under His wings you will find refuge; His faithfulness will be your shield and rampart. You will not fear the terror of night, nor the arrow that flies by day, nor the pestilence that stalks in the darkness, nor the plague that destroys at midday. A thousand may fall at your side, ten thousand at your right hand, but it will not come near you. You will only observe with your eyes and see the punishment of the wicked. If you say, "The Lord is my refuge," and you make the Most High your dwelling, no harm will overtake you, no disaster will come near your tent. For He will command His angels concerning you to guard you in all your ways; they will lift you up in their hands, so that you will not strike your foot against a stone.  You will tread on the lion and the cobra; you will trample the great lion and the serpent. "Because He loves me," says the Lord, "I will rescue him; I will protect him, for he acknowledges my name. He will call on me, and I will answer him; I will be with him in trouble, I will deliver him and honour him. With long life I will satisfy him and show him my salvation.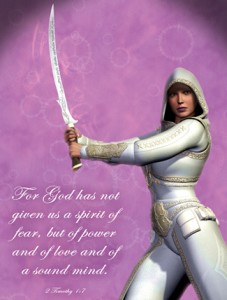 When I am feeling threatened or attacked by the devil, I use my Sword, which is the Word of God.
I quote verses from the Bible at my enemy, especially Psalm 91 and the result is I feel God's protection and comfort almost instantly.
This is my favourite Psalm and I have memorised it so it becomes engrafted into my heart.
I have it stuck to my fridge and I put my name in there and pray it over my life.
I would strongly advise you to do the same, so:
read it, recite it, pray it and proclaim it.
God Is Good All the Time
The first verse is so powerful and if we are obedient and do what it says to do, we will find the rest we so need!
God is a good God, He is a God of love and He loves you so much, He wants the very best for you!  He will ALWAYS honour His promises, but there is something we must do to claim these wonderful promises and that is to "dwell", or remain, stay, live in the secret place of God. "WHOEVER dwells in the shelter of the Most High WILL rest in the shadow of the Almighty".  Every child of God looks towards His mercy seat, but we all do not live in the most holy place. We can all run to it at times of need or crisis, but when all's okay, we wander off again. Please don't just run to Him in times of need, stay in relationship with Him in every circumstance – good or bad.
When we are in continuous communion and stay close to God, we get to possess all those wonderful rare and special benefits that are missed by those who follow at a distance.  There is no shelter imaginable that compares to the protection of Jehovah's own shadow.  There is no better refuge when going through a storm!
Snuggle up close to your Abba Father, He is the Source of the Shadow. He is standing there waiting for you, His little girl, longing to give you ALL the care, comfort and protection you need and crave.
He Will Protect You
Verses 11 and 12 tell us: "For He will command His angels concerning you to guard you in all your ways; they will lift you up in their hands, so that you will not strike your foot against a stone." 
Did you know that in the Spiritual realm God has angels waiting on standby for your protection? You just need to cry out to Him and ask Him to send His angels down to protect you. God will do what He has promised and set His angels in motion. I have prayed this prayer on a couple of occasions when I thought things were impossible, and God changed my situation around straight away.  Isn't God's provision wonderful?
He is the God of the "I WILL"
Thousands of years before you were even born, this prophetic Psalm was written, God-breathed, JUST FOR YOU. He has promised to respond to your pleas for help in every threatening circumstance. He has made preparations ahead of time for whatever your situation. "HE WILL call upon Me, and I WILL answer him; I WILL be with him in trouble, I WILL deliver him'" (Psalm 91 15).
I love how God uses these words "I WILL"  over and over again here. When you call on Him, HE WILL BE WITH YOU IN TROUBLE AND HE WILL DELIVER YOU!  This is a mighty promise, you need to claim it over your life, your marriage and all your circumstances.
Please feel free to email me any time you wish.
Beauty for Ashes
Gen3x – Helping the woman whose husband is involved in porn