Matthew 22:36-38 – Teacher, which is the greatest commandment in the law?  Jesus said to him,"You should love the Lord your God with all your heart, with all your soul, and with all your mind. This is the first and greatest commandment"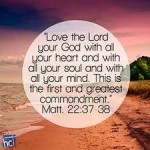 God is a good Father, He loves to give good things to His children. When we pray we ask Him to provide for us, not just our "daily bread" but also for things like wisdom, knowledge, understanding, strength, etc.  But do we ever give a thought to what He would want from us? We long for our own children to love us back, maybe God would like that too!
Do you show Him how much you love Him? Do you love Him with ALL our heart, soul and mind.
When I really thought about these verses I asked myself "Is that possible? Can I really love God with ALL my heart, soul and mind? What does that really mean?" So I decided to research the definition of each:
The Heart
The heart is full of powerful affections and desires which long to be fulfilled. Our hearts long to cling to something or someone, so wherever your affections lie, then your heart will be there also. Jesus says: "Wherever your treasure is, there your heart will be also" Matthew 6:21. He is saying here that the heart loves what it treasures, so if we want to fulfil the first part of the Greatest Commandment, then we need to treasure God above all else.
When I looked at my own life, past and present, I realised that I was dwelling on past hurts, and sometimes when we do this, it's hard to allow Jesus into that area of pain because we fear that if we surrender these to Him, we will become vulnerable and have our hearts broken again. However, 1 John 4:18 says "There is no fear in love, but perfect love drives out all fear"
Real love is hard work, but when we choose to love God with ALL our heart, then we will find it easier to forgive, to support one another, to see past the faults and still choose love no matter what. This is especially important in our marriages.
Love carries us through the storms of life even when all hell seems to be against us!
The Soul
The soul defines our personality and identity, it's at our core.  It's what we choose to put our "core" values into.
Things like how we choose to spend our time, our money. What we read, or watch on TV. It is said that the eyes are the windows to the soul. How do we choose to relax.  What brings us comfort in difficult times? All these choices reveal how much we love God from our soul.
When we marry, we make a covenant with God and to our spouse to love for better or for worse, richer or poorer, sickness and in health til death us do part. To show God we love Him with ALL our soul, we have to choose to obey Him and keep our covenants to Him.
However, God does allow a way out if your spouse commits adultery or if lives are in danger, so you don't have to live in situations such as domestic violence or adulterous affairs.
So to love Him from the soul is to honour and obey Him in the way we live every day.
"If you love me, you will do as I command" John 14:15
The Mind
Our minds are filled with pictures, images, words and thoughts which are continually ongoing and probably endless until the day we die.  So much of our lives are lived through our minds. We even have conversations with ourselves through our minds. When we pray, either silently, or aloud, we do so through our minds. Isaiah 1:18 "Come now let us reason together" saith the Lord. God will also give us pictures and visions in our minds.
Sometimes, when it comes to loving God, our hearts love first and our minds take a while longer to reason or understand, then will catch up with what the heart has received.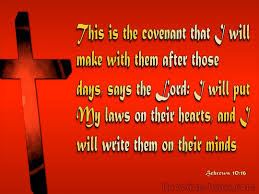 Hebrews 10:16 "I will put my laws in their heart and I will write them in their minds"
To come close to loving God with all our minds, we need to meditate on His word so it becomes engrafted in our hearts and written in our minds.  His truth will cause us to love Him more and more.
The devil will try to mess with our minds. He will try to fill us with negative thoughts and sow seeds of doubt and offence. There is a constant battle going on for our minds!
Romans 12:2 Do not conform to the pattern of this world, but be transformed by the renewing of your mind. Then you will be able to test and approve what God's will is—his good, pleasing and perfect will.
To triumph over these kinds of thoughts, we should instead choose to remember God's loving kindness, patience, peace, faithfulness and mercy. This is how we "renew" our minds daily.  He has given us wonderful dreams, desires and imaginations.
Philippians 4:8 "Fix your thoughts on what is true, and honourable and right. Think about things that are pure and lovely and admirable. Think about things that are excellent and worthy of praise"
The mind is our logic, our thought life, where we can allow seeds to be sown for good or for evil.  So to love God with all your mind means to meditate on God's word and choose to renew our minds constantly with pure and loving and honourable thoughts.
As we choose to think like this, we are well on our way to loving God with ALL our mind.
"Choice" the power, right or liberty to choose.  Did you notice that it is our "choice" to love?
Every morning when we wake up, we need to discipline ourselves to go to our spiritual wardrobe and "put on" love from our hearts, our souls and our minds. To choose to treasure God above all else, we need to clothe ourselves with an attitude and lifestyle which honours God, to be obedient and keep our covenants with Him and read His word and renew our minds with loving and honourable thoughts.
Beauty for Ashes – Gen3x